Our lodge is perfectly located to explore the best of the Kruger National Park with the famous Orpen Gate being just 30 minutes away. Blyde River Canyon and the Drakensberg Mountains can also be reached within a short drive.
We are happy to assist you with an individual itinerary for activities during your stay. Explore the activities we provide ourselves and in cooperation with highly professional, regional partners:
Please note:  For all activities please contact us and we will make an individual package for you.
GAME DRIVES AND BUSH WALKS
Explore the bushveld on an open game viewer or on a guided walk to get in close touch with nature. Let your guide explain all the big and small wonders, the bush has to offer.
Just a short drive from Orpen Gate,
Sunbirds Oasis is on the doorstep of Kruger National Park, offering almost 2 million hectares of pure nature and home to the Big 5. Start early morning to be in time for the Lions walking the roads on the lookout for prey, the Leopards climbing the trees to secure a shady place for the day and the Hyaenas relocating their young ones.
Enjoy your breakfast at one of the plenty viewpoints and always keep an eye out for the next big herd of elephants walking by. After more game viewing and visiting Satara Rest Camp for lunch, you will make your way back to the Lodge in the afternoon, being full of lifelong memories.
Some of the most famous viewpoints and natural wonders of South Africa are located on the well-known Panorama Route. Spend the day enjoying the landscape of the Three Rondavels, the endless view over the Lowveld of God's Window and the splashing
fascination of the waterfalls.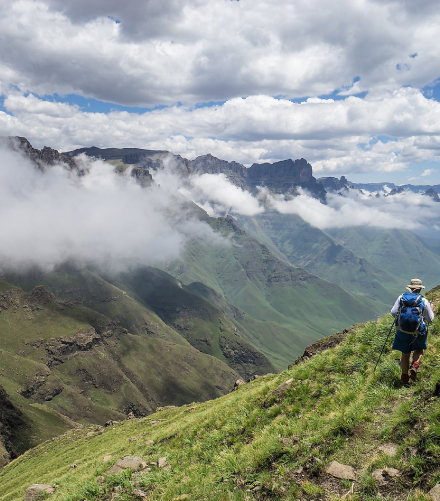 HIKING IN THE DRAKENSBERG MOUNTAINS
Join our local guide on a hike into the Drakensberg Mountains right up to the nests of the highly endangered Cape Vultures.
To get a different perspective of the Canyon hop on a boat to take you through the valleys of Blyde River. Beside the fascinating views, you will also find perfect opportunities
for birding.
BANTAM OR HELICOPTER FLIGHTS
You want to spot the Big5 from the air? Then a Bantam or Helicopter flight is just the right thing for you. Whether it's a short 20-minute overview of Hoedspruit's surrounding game reserves or full 2 hours enjoying the Lowveld and the Blyde River from up above, we have the right option for you.
A close-up on the conservation work is provided to you by a visit to one of Hoedspruit's wildlife rehabilitation centers. HESC and Moholoholo give you the opportunity to be face to face with wild animals, like Lions and Cheetahs and to contribute to protecting the
species at the same time.